Home /
Services /
Web Hosting - Managed, Secure, Dedicated Web Hosting including automated off-site Backup
Hosting Services
Our state-of-the-art hosting services ensure your website will be fast-loading, reliable, efficient and scalable. Primarily based on high specification dedicated servers at private data centres in the United Kingdom and complimented by scalable cloud servers, multiple global DNS nodes, a resilient global content delivery network (CDN) and cutting edge security, backup and delivery optimisation technologies.
Data Centre Specification
450mm raised floor void
Redundant parallel UPS system
Close control down-flow air conditioning units
Staff on-site 24/7/365
2 megawatt substation with 11kV feed
Backup diesel generator
Fire detection and gas suppression system
2.5 metre palisade perimeter security fence
PAC security access system
24/7/365 recorded CCTV on every rack aisle and all entrances
Multiple fibre routes out of the building, diversely routed
Multiple 10 gigabit Ethernet network connections to London
Cat6 shielded structured cabling
External air condensers for close control HVAC (heating, ventilation and cooling) system, to keep servers cooled to a constant temperature.
An emergency stand-by diesel generator will provide power in the unlikely event of a utility failure. The power distribution system automatically switches from mains power to diesel generator in the event of a failure.
All servers are protected by an uninterruptible power supply (UPS), which uses batteries to provide continual clean power.
The data centre is protected around the clock by an advanced fire detection system. There are fire detectors throughout the data floor, underneath the raised floor, and in ancillary areas. There are two types of fire detectors for maximum resilience.
The data centre has a gas suppression system. In the unlikely event of a fire, we can release an environmentally-friendly gas to stop the fire. The fire suppression gas is stored in high pressure cylinders away from the server room.
Digital CCTV both internally and externally, monitored and recorded 24/7/365. A 2.5 metre metal palisade fence surrounds the compound and all entrances and exits have secure proximity tags to ensure only authorised personnel can access the site.
Staff are on-site 24 hours a day, 7 days a week, 365 days a year with all servers in the data centre continually monitored to achieve maximum uptime. Staff are trained and experienced in repairing server hardware.
Global Infrastructure
Our servers connect to the outside world over a fast, modern network that has access to nodes in multiple locations worldwide, including: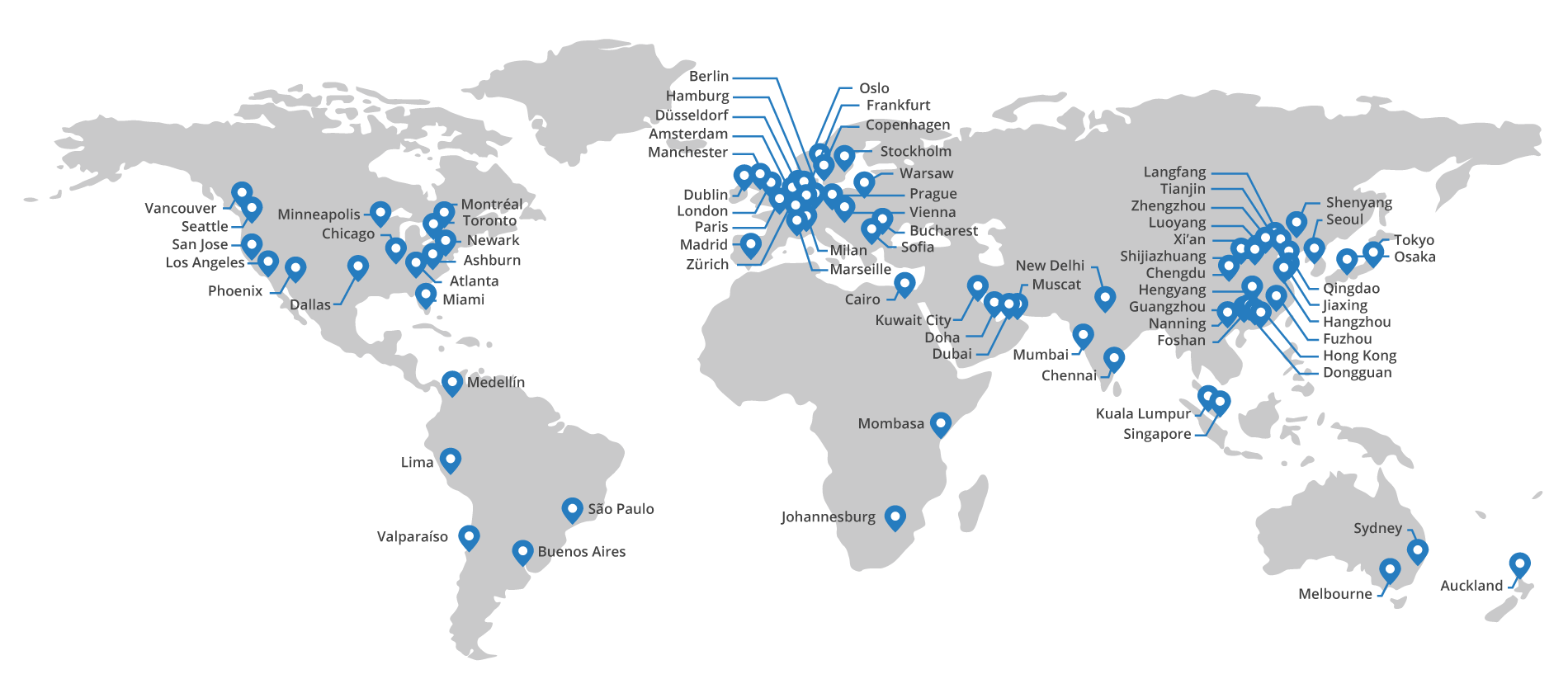 This enables DNS servers to deliver both high availability and resilience to DDoS (distributed denial-of-service) and other attacks whilst serving content to your users with high availability and performance. A faster, more available website provides you with the following benefits:
Increased Conversions
Several case studies have shown mind blowing results. It is hard to believe how much effect a fast loading site has on your conversion. Mozilla's optimised experimental variation shaved 2.2 seconds off the average page load time and increased conversions by 15.4%
More Revenue
If an e-commerce site is making £10,000 per day, a one second page delay could potentially cost £250,000 in lost sales every year. Amazon found that one tenth of a second of load speed is worth one percent of sales
Happier Customers
Studies have discovered some critical factors regarding how loading time affects customers. In fact, nearly half of viewers expect a web page to load in less than two seconds! Not only that, but 52% of online shoppers claim that loading is important for their loyalty to a site
Better SEO
Google has shown that page speed is a large factor used in their ranking algorithm. Pages that load faster are listed higher in search results
Our network optimises site performance whether your users are next door or around the world. With multiple edge and peer locations available, your files are served from original server to end users at their nearest geographic location.
Technology Highlights
Fast, Global, Secure Authoritative DNS
Super fast look-up speeds
Instant DNS updates
A global network serving over 40 billion daily queries
Protection against DDoS and other attacks
Fully managed
The global Anycast network powering our DNS service serves over 40 billion DNS queries per day. With data centres located worldwide, every network node can serve any DNS request. With built-in load balancing and automatic failover, the network has been designed to withstand losing 50% of the network without impacting service availability.
The global network powering our DNS service consistently ranks amongst the fastest DNS providers in the world by independent analyst SolveDNS
DNS queries are routed to the closest available data centre to make sure the response is returned in a few milliseconds.
Near instant DNS updates ensure that changes to website structure, redirecting to disaster recovery servers or switching hosting providers etc. can be carried out without all too common propagation delays.
Built from the ground up with security in mind, our DNS solution can resist even the largest DDoS attacks. The proper protections, including rate limiting, filtering, and blocking are automatically implemented, so your website can remain online no matter when an attack takes place.
Content Delivery Network (CDN)
The hardware and software powering our CDN solution allows millions of requests per second to be processed efficiently. Edge nodes are located at the most strategic points on the Internet, ensuring that your visitors get the fastest page load times and best performance.
On average, a request takes fewer than 10 hops and experiences less than 30ms latency no matter where your users are visiting from.
With access to over 75 data centres around the world, our CDN solution automatically caches your static files such as images, PDFs, CSS and JavaScript at edge nodes while dynamic content is served directly from your web server. A technology called Anycast is used to route your visitors to the nearest data centre, which results in your website loading (on average) twice as fast for your visitors regardless of where they are located as well as requiring 65% fewer requests and saving 60% of bandwidth.
Disaster Mitigation
In the unlikely event that the server hosting your website ever goes offline, we can serve a limited copy of your cached website to your visitors while the root problem is being fixed. Think of this as the equivalent in networking terms of a backup generator to temporarily mitigate against a power outage.
Protect Against Traffic Surges
If you experience a sudden surge in traffic (for example by being featured on a TV programme - Just ask our clients The Nuts Poker League about their appearance on BBC 2 Dragons' Den!), traditional web hosting solutions may struggle to cope, making your website run slowly giving your new users a poor first experience of your business and in the worst cases, turning them away due to unavailability of your website or the crashing of your web server. If you're cutting corners with budget hosting, you may even find that your account is banned for exceeding the acceptable use policy.
Pseudo IPv6
Your site will be available to visitors on IPv6 networks without any necessity to upgrade your infrastructure. Your IPv4 infrastructure can be maintained until you're ready to upgrade, while making it appear to anybody who checks that you're running a cutting edge dual-stack.
HTTP/2
Based largely on Google's SPDY protocol which will be deprecated in 2016, HTTP/2 is the latest update to the HTTP protocol and brings advancements in performance (especially the speed improvements of reduced latency as perceived by the end-user while using a browser), efficiency and security and is supported by most modern web browsers. When a browser supports HTTP/2, the edge network powering our CDN solution will take full advantage of HTTP/2 performance benefits. If the browser supports SPDY but not HTTP/2, it will respond in SPDY. For older browsers or non-HTTPS requests, it will fall back to HTTP/1.1. Running the latest web technologies send positive signals not only to your visitors, but also to Search Engines and there is speculation that this can have a positive affect on your website's search rankings.
Binary protocol: More efficient to parse, more compact 'on the wire', and much less error-prone than textual protocols
Multiplexing and concurrency: Multiple requests can be sent in parallel over a single TCP connection and responses can be received out of order, eliminating the need for multiple connections between the client and the server and reducing head-of-line blocking
Header compression: HTTP header uses header compression HPACK to reduce overhead
Server push: The server can send resources proactively into client caches instead of waiting for a new request for each resource
Stream dependencies: The client can indicate to the server which resources are more important than others
ALPN extension: Allowing for faster encrypted connections since the application protocol is determined during the initial connection
Reduced additional round trip times (RTTs): Making your website load faster without any optimisation
Simplified development: Optimisation methods such as domain sharding and asset concatenation is no longer necessary
During testing, average page load time was reduced from 9.07 seconds over HTTP 1.1, to 7.06 seconds over SPDY/3.1, to just 4.27 seconds over HTTP/2.
As always, there is a time lag between new technologies being released and being adopted by users. To allow for this your users will always be served via the fastest protocol version available when accessing your site over TLS/SSL - The connection for users without support for HTTP/2 or SPDY on the browser will be established via HTTP/1.x, via SPDY/3 for browsers with support for SPDY/3 but not HTTP/2 and via HTTP/2 (the best experience possible) for users with newer browser versions that support HTTP/2.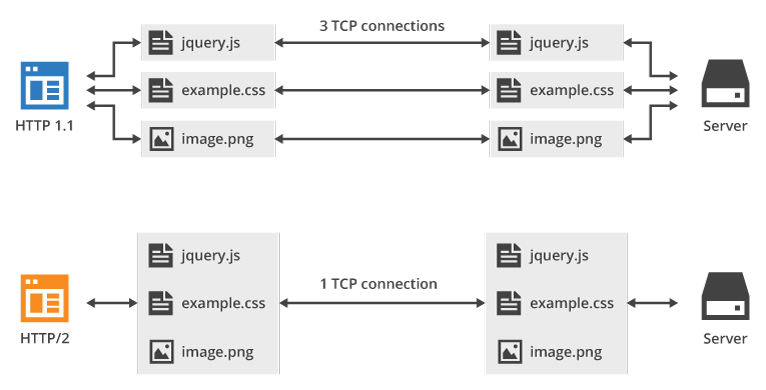 Session Optimisation
Pre-fetching automatically identifies and then optimises the delivery of your most frequently requested resources. Your most popular assets get preloaded into your visitor's browser on their first visit so that subsequent page loads are extra fast.
DNSSEC
If DNS is the phone book of the Internet, DNSSEC is the Internet's un-spoofable caller ID. It guarantees a website's traffic is safely routed to the correct servers so that a site's visitors are not intercepted by a hidden 'man-in-the-middle' attacker. These attacks usually go unnoticed by sites' visitors, increasing the risk of phishing, malware infections, and personal data leakage.
Web Content Optimisation
Web performance is not just about moving static files closer to visitors, it is also about ensuring that every page renders as fast and efficiently as possible from whatever device a visitor is surfing from. Our CDN automatically optimises your pages to minimise the number of network connections and ensure even third party resources won't slow down page rendering, combines multiple JavaScript files into a single request to avoid the overhead of multiple network requests, removes unnecessary characters from HTML, CSS, and JavaScript, uses local storage on modern browsers and mobile devices to intelligently cache the objects needed to best render your site, automatically adjusts the cache header instructions so browsers will correctly cache the resources of a site to minimise the need for new requests and optimises your HTML so that it renders as quickly as possible and without needing to wait for slow scripts.
SSL
SSL (Secure Socket Layer) is the standard security technology for establishing an encrypted link between a web server and a browser. This secure link ensures that all data transferred remains private. It's also called TLS (Transport Layer Security). Millions of websites use SSL encryption every day to secure connections and keep their customers' data safe.
SSL is visible to users in several ways in the website address bar:
A lock icon in the browser bar
The website address starting with https://
An increasing number of websites adopt SSL for various reasons:
Security: Ensuring that no one is intercepting web traffic
Trust: By displaying a padlock icon, the website increases visitors' trust
Search ranking boost: Google ranks sites that have SSL higher in search results
Regulatory compliance
Working with the world's premier certificate issuing authorities such as Comodo, Symantec, Thawte and GeoTrust, we can acquire, install and deploy your new SSL certificate quickly, cost effectively and without any disruption to your website or extensive form-filling.